ISS049-E-10638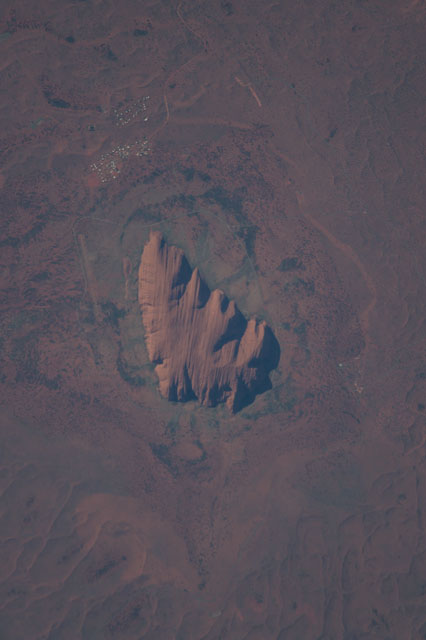 | | |
| --- | --- |
| NASA Photo ID | ISS049-E-10638 |
| Focal Length | 1600mm |
| Date taken | 2016.09.23 |
| Time taken | 23:29:37 GMT |
| | |
| --- | --- |
| Country or Geographic Name: | AUSTRALIA-NT |
| Features: | ULURU-AYERS ROCK |
| Features Found Using Machine Learning: | |
| Cloud Cover Percentage: | 10 (1-10)% |
| Sun Elevation Angle: | 33° |
| Sun Azimuth: | 73° |
Camera:

Nikon D4 Electronic Still Camera

Focal Length:

1600mm

Camera Tilt:

17 degrees

Format:

4928E: 4928 x 3280 pixel CMOS sensor, 36.0mm x 23.9mm, total pixels: 16.6 million, Nikon FX format

Film Exposure:

Additional Information
| Width | Height | Annotated | Cropped | Purpose | Links |
| --- | --- | --- | --- | --- | --- |
| 1000 pixels | 666 pixels | No | No | Earth From Space collection | Download Image |
| 540 pixels | 360 pixels | Yes | No | Earth From Space collection | Download Image |
| 4928 pixels | 3280 pixels | No | No | NASA's Earth Observatory web site | Download Image |
| 720 pixels | 480 pixels | Yes | No | NASA's Earth Observatory web site | Download Image |
| 3280 pixels | 4928 pixels | No | No | | Download Image |
| 426 pixels | 640 pixels | No | No | | Download Image |
Other options available:
Download Packaged File
Download a Google Earth KML for this Image
View photo footprint information
Download a GeoTIFF for this photo
Image Caption
:
Uluru/Ayers Rock Uluru/Ayers Rock Uluru/Ayers Rock
An astronauts aboard the International Space Station (ISS) photographed this very detailed image of the famous Australian icon Uluru/Ayers Rock (at image center) in what is known as Australia's "red center" as colors in the photograph show. Even the thin banding in the sandstone rock mass can be clearly seen on this massif that is 3 km (1.85 miles) long. The appearance of the rock from ground level shows its sheer sides that rise 348 meters (1120 feet). Uluru is an ancient name used by Australian Aboriginals for Ayers Rock, a recent name given by explorer William Christie Gosse in the 1800s. The rock is one of Australia's major tourist attractions (400,000 visitors in 2000), with operations run by local people. A 16 km (10 mile) road circumnavigates the rock, and a disused airstrip lies near the town. Darker greens surrounding the rock are swaths of vegetation that takes advantage of the many springs that provide water along the footslopes of the rock. Further away, desert scrub on the drier soils of the sand dunes--which appear as typical linear forms (image corners)--are browner.
Uluru was thought by native peoples to have been created by ancestral beings during the Dreamtime--which has been described as the essence of aboriginal culture and spirituality. The rock is regarded as one of the ancestors' most impressive pieces of work, created with all other landscapes that emerge from the Earth's originally flat surface. Ancient paintings throughout the caves and fissures of the rock describe this relationship and keep Dreamtime traditions alive. The close spatial relationship between the Mutitjulu settlement (at image right) and the rock, evident in the image, symbolizes the spiritual connection between the local people and the rock.
Today Uluru is part of Uluru-Kata Tjuta National Park and became a UNESCO site in 1994 for cultural preservation and protection.