ISS039-E-18538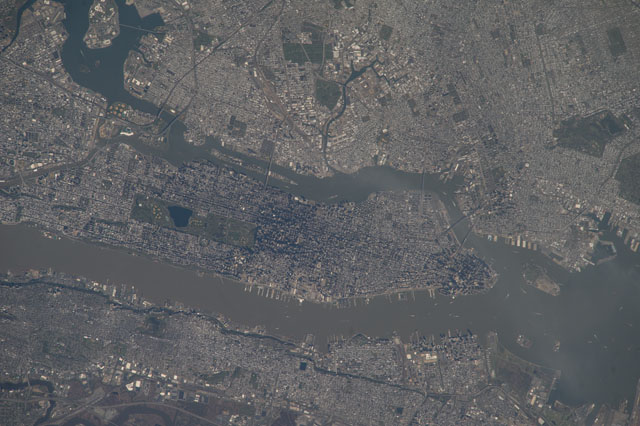 | | |
| --- | --- |
| NASA Photo ID | ISS039-E-18538 |
| Focal Length | 800mm |
| Date taken | 2014.05.05 |
| Time taken | 19:53:13 GMT |
| | |
| --- | --- |
| Country or Geographic Name: | USA-NEW YORK |
| Features: | MANHATTAN, NEW YORK CITY |
| Features Found Using Machine Learning: | |
| Cloud Cover Percentage: | 10 (1-10)% |
| Sun Elevation Angle: | 43° |
| Sun Azimuth: | 255° |
Camera:

Nikon D3S Electronic Still Camera

Focal Length:

800mm

Camera Tilt:

38 degrees

Format:

4256E: 4256 x 2832 pixel CMOS sensor, 36.0mm x 23.9mm, total pixels: 12.87 million, Nikon FX format

Film Exposure:

Additional Information
| Width | Height | Annotated | Cropped | Purpose | Links |
| --- | --- | --- | --- | --- | --- |
| 1000 pixels | 603 pixels | No | Yes | Earth From Space collection | Download Image |
| 540 pixels | 326 pixels | Yes | Yes | Earth From Space collection | Download Image |
| 1440 pixels | 960 pixels | No | No | NASA's Earth Observatory web site | Download Image |
| 720 pixels | 480 pixels | Yes | Yes | NASA's Earth Observatory web site | Download Image |
| 4256 pixels | 2832 pixels | No | No | | Download Image |
| 640 pixels | 426 pixels | No | No | | Download Image |
Other options available:
Download Packaged File
Download a Google Earth KML for this Image
View photo footprint information
Download a GeoTIFF for this photo
Image Caption
:
New York City
This detailed image reveals the narrow shape of Manhattan located between the Hudson River and the East River, a feature familiar to crews on the International Space Station. The ragged line of shadow cast by the Palisades cliff crosses the bottom of the image. Wharves jut into the rivers, bridges are visible mainly because of the shadows they cast, and the grid pattern of major roads stands out. On the island of Manhattan itself the main visual features are Central Park (with playing fields as white dots) and two darker zones where the tallest buildings in Midtown East and the Financial District cast strong shadows, even in this early afternoon view.
Rivers and parks reduce the effect of the urban heat island - the local zone of higher surface and atmospheric temperatures generated by storage and later release of heat by city materials such as concrete and tarmac. Rivers provide pathways for wind and the cooling effect of parks is detectable by instruments on spacecraft that can measure the temperature of the ground surface. Tall buildings have a more complex effect. Shadowed zones in the "urban canyons" between tall buildings - as shown in this image - receive fewer hours of direct sun per day. But where the sun can reach canyon floors, the sun's energy is reflected back up at the walls of the buildings where it is absorbed and later released as heat. This is especially the case at night when urban canyons retain more heat than those sections of the city with shorter buildings.