ISS017-E-5037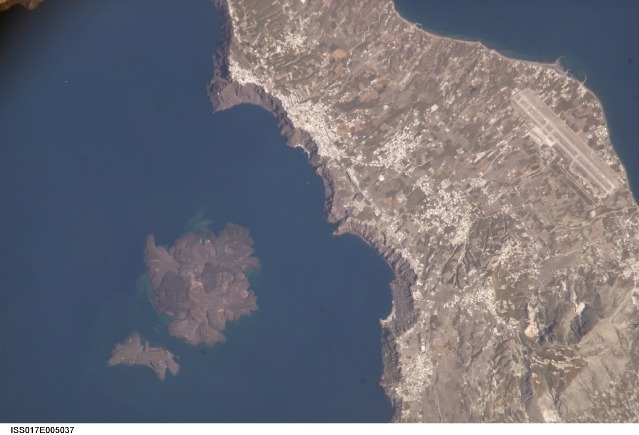 | | |
| --- | --- |
| NASA Photo ID | ISS017-E-5037 |
| Focal Length | 800mm |
| Date taken | 2008.04.19 |
| Time taken | 08:05:16 GMT |
| | |
| --- | --- |
| Country or Geographic Name: | GREECE |
| Features: | SANTORINI, THIRA, LAVA FLOWS |
| Features Found Using Machine Learning: | |
| Cloud Cover Percentage: | 10 (1-10)% |
| Sun Elevation Angle: | 52° |
| Sun Azimuth: | 122° |
Camera:

Kodak DCS760c Electronic Still Camera

Focal Length:

800mm

Camera Tilt:

7 degrees

Format:

3060E: 3060 x 2036 pixel CCD, RGBG array

Film Exposure:

Additional Information
| Width | Height | Annotated | Cropped | Purpose | Links |
| --- | --- | --- | --- | --- | --- |
| 1000 pixels | 607 pixels | No | Yes | Earth From Space collection | Download Image |
| 540 pixels | 328 pixels | Yes | Yes | Earth From Space collection | Download Image |
| 540 pixels | 334 pixels | Yes | Yes | NASA's Earth Observatory web site | Download Image |
| 3032 pixels | 2064 pixels | No | No | | Download Image |
| 639 pixels | 435 pixels | No | No | | Download Image |
Other options available:
Download Packaged File
Download a Google Earth KML for this Image
View photo footprint information
Download a GeoTIFF for this photo
Image Caption: Santorini Volcano, Greece

One of the largest volcanic eruptions in the past 10,000 years occurred in approximately 1620 BC on the volcanic island of Santorini in the Aegean Sea. This astronaut photograph illustrates the center of Santorini Volcano, located approximately 118 kilometers to the north of Crete (not shown). Prior to 1620 BC, the island of Santorini, now known as Thera, was built up by layers of lava created by overlapping shield volcanoes, and it had experienced three significant eruptions that formed overlapping calderas, or collapsed magma chambers. Around 1620 BC, the fourth (and latest) major eruption created the present-day islands and caldera bay of Santorini Volcano. The caldera rim is clearly visible in this image as a steep cliff forming the western shoreline of the island of Thera.

Following the 1620 BC eruption, much of the previous island of Santorini was destroyed or submerged; this event may have been the inspiration for the legend of the "lost continent" of Atlantis. Far from legend however, many archeologists believe that the eruption was a major factor--or the immediate cause--of the destruction of the classical Minoan civilization of Crete.

The white rooftops of cities and towns trace the caldera rim on the island of Thera, and overlook the young central islands of Nea Kameni and Palaea Kameni, which both formed from lava domes and flows that started erupting approximately 1,400 years after the cataclysmic 1620 BC event. Several of these flows are visible in the image as brown to dark-brown irregular masses forming Nea Kameni (image left). The most recent volcanic activity in the Kameni islands occurred in 1950, and included some small explosions and production of lava. The extent of development, and location of an airport (image upper right) on Thera illustrate the popularity of Santorini Volcano as a tourist destination. Today, volcanic activity is closely monitored by the Institute for the Study and Monitoring of the Santorini Volcano, or ISMOSAV.